Using Lasers Effectively
Using Lasers
This class is designed to help you shoot more accurately and quickly when using a laser device.
Cost:
$75
Curriculum:
Review of handgun safety principles
Sighting in & accuracy drills
Multiple targets
Increasing speed
Failure drills
And much more
Duration:
2 hours minimum, 3 is more realistic
Prerequisites:
This class is for all levels of shooters.
The course is both physically and mentally demanding.
What to Bring:
Your working handgun with a laser device (rail attached or laser grips)
Minimum of 100 rounds of FACTORY ammunition for your gun
A snack
Note taking materials
Clothes for the anticipated weather, we'll probably shoot outside
Knee pads
Course Completion:
To earn the course completion certificate, handle and shoot the gun safely.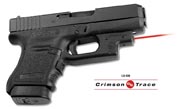 Do you know what distance your laser is sighted in at?
Can you transition quickly between your laser and regular sights if the battery fails?
Think in terms of "defensive accuracy" when using the laser, not a one-hole group! The faster you get hits on the threat, the faster it will stop attacking you.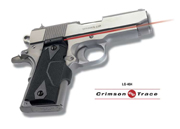 © Copyright 2009 Roger Moore and GunSmart - Firearm Training LLC All Rights Reserved